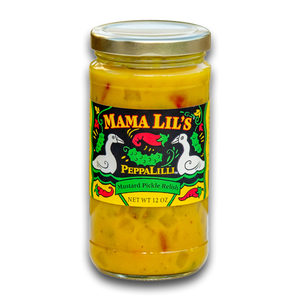 PeppaLilli Mustard Pickle Relish - 12oz. 6-pack
Hot-diggity dog!  It's the Mama of all relishes!

Our sweet and spicy version of Grandma's chow chow or mustard pickle recipe. Cool as a cucumber, hip-hot as a peppa, it'll turn that hot dog into a gourmet meal and bring pizazz to sandwiches of all persuasions. 
This zesty mustard pickle relish is made with our signature pickled Hungarian "Goat Horn" wax peppers, cucumbers, onions and our unique mustard spice mix. They have a sweet spicy kick that's hot enough for pepper fans, yet balanced enough for everyone!

A pickled pepper and food connoisseur's dream!

At Mama Lil's, only the best locally grown and freshest natural ingredients make it into our products. We get all of our produce from local farmers to create some of the world's tastiest gourmet food products!
*All Mama lil's products are Vegan and Vegetarian friendly!

What's in the Box:

6-pack (case) of 6 12oz Jars

FAQ

Q:
What can I eat Mama Lil's peppers with?

A:
Just about EVERYTHING! We like to say 'Mama lil's Peppers make the ordinary extraordinary!'. They go great with sandwiches, hor d'oeuvres, cheeses and Charcuterie platters, steak, chicken, pork, fish, and much more.... The peppertunities are endless!

We've even had people use them in a chocolate cake and upon trying it for ourselves, we have to say it was delicious!


Q:
How long is the shelf life?

A:
One of the great benefits of our pickled products is that they have an extra long shelf-life of about 3 years (unopened/best by date) and six months to a year if opened and refrigerated.  

A few fun pickle facts: For over 3000 years, pickling has been one of the best ways to preserve foods. By soaking in an acidic bath (vinegar), bacteria growth is prevented which in-turn naturally prevents disease and as well as having other great health benefits.


Q:
Why are products sold in 6-packs?

A:
Our products are packaged in glass jars for ultimate freshness and longer shelf life. Because glass is heavy, 6-packs provide the best value to our customers. We do realize that this makes shipping costs a bit more expensive, however it is simply necessary to provide the highest quality products to our valued customers. Luckily, all our products have great shelf life and is one of the reasons many of our costumers actually choose to stock up on multiple 6-packs (cases) rather than ever risk running out! Yea, they're that good!

As an added bonus, extra jars also make the best last minute party, holiday and thank you gifts! A inexpensive gift that stands out and everyone will love... Wrap it in a bow and it's good to go!

To be honest, because our peppers are so incredibly delicious, go great on just about everything, we're sure you'll go through jars a lot faster than you ever imagined!